Home
Feb 21, 2011
This week's theme
Words with unusual plurals
This week's words
stele
eidos
fomes
lacuna
miasma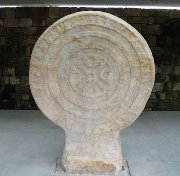 A stele from Cantabria, Spain
Photo: María Victoria Gómez Fernández
---

Discuss

Feedback

RSS/XML
---









A.Word.A.Day

with Anu Garg

Many years ago when I was in school, a teacher in a math class told us that the correct plural for the word formula was formulae (pronounced FOR-myuh-lee). I remember thinking: Really?

Eventually I discovered other words that follow this rule (antenna/antennae, larva/larvae, etc.) and learned that when we borrow words from another language, we often borrow their pluralization rules as well.

But the general trend is toward English-style plural forms. We simplify pluralization by adding an s or es to the word -- you are more likely to hear formulas than formulae. To make things a little complicated, sometimes the plural depends on the context: antennae is preferred in biology and antennas in radio.

So if you bump into a group of eight-armed animals would you call them octopuses, octopi, octopodes, or something else? Go with octopuses, unless they tell you they prefer otherwise.

This week we'll see five words that have unusual plurals -- though most of them work with straightforward -s/-es plural form too.
stele
PRONUNCIATION:

(STEE-lee, steel)


plural stelai (STEE-ly) or steles (STEE-leez, steelz)

MEANING:

noun:
1. An upright stone or pillar, having an inscription or a sculptured surface, serving as a monument. Also called stela.
2. The central core of the stem or root of a vascular plant.



ETYMOLOGY:

From Greek stele (pillar). Ultimately from the Indo-European root stel- (to put or stand), which is also the source of stallion, stilt, install, gestalt, stout, and pedestal, and epistolary. Earliest documented use: 1820.



USAGE:

"A plaque or a stele is being discussed as a possible monument."
Severin Weiland; Son's Tell-All Book Damages Helmut Kohl's Image; Der Spiegel (Hamburg, Germany); Jan 27, 2011.

See more usage examples of stele in Vocabulary.com's dictionary.



A THOUGHT FOR TODAY:

Absolute justice is achieved by the suppression of all contradiction: therefore it destroys freedom. -Albert Camus, writer, philosopher, Nobel laureate (1913-1960)


We need your help

Help us continue to spread the magic of words to readers everywhere

Donate