Home
Sep 5, 2017
This week's theme
Terms from ball games
This week's words
Monday morning quarterback
slam dunk
bush league
googly
spin doctor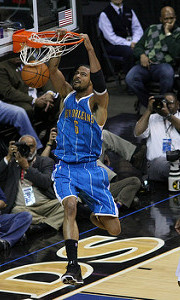 ---






A.Word.A.Day

with Anu Garg


slam dunk
PRONUNCIATION:
(slam duhnk)

MEANING:
| | |
| --- | --- |
| noun: | 1. In basketball, a shot in which a player jumps up and slams the ball down through the basket. |
| | 2. Something easy to do or certain to occur. |
| verb tr.: | 1. To thrust the ball down through the basket. |
| | 2. To defeat decisively. |



ETYMOLOGY:

From slam (to hit or thrust), possibly of Scandinavian origin + dunk (to dip), from Pennsylvania German dunke (to dip). Earliest documented use: 1969.




USAGE:

"Howell wasn't supposed to be a difficult case. It should have been a slam dunk."

Keith Walley;

Bloodguilt

; Lulu; 2012.

See more usage examples of

slam dunk

in Vocabulary.com's

dictionary

.




A THOUGHT FOR TODAY:

If he does not fight, it is not because he rejects all fighting as futile, but because he has finished his fights. He has overcome all dissensions between himself and the world and is now at rest... We shall have wars and soldiers so long as the brute in us is untamed. -Sarvepalli Radhakrishnan, philosopher and 2nd president of India (5 Sep 1888-1975)


A.Word.A.Day by email:

Subscribe

"The most welcomed, most enduring piece of daily mass e-mail in cyberspace."