Home
Jan 15, 2016
This week's theme
Vocab words
This week's words
onerous
torpor
welter
invective
reticence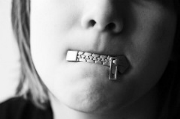 This week's comments
AWADmail 707
Next week's theme
Clothing terms used metaphorically
---






A.Word.A.Day

with Anu Garg


reticence
PRONUNCIATION:
(RE-tuh-sens)




MEANING:

noun: A reluctance to express one's thoughts and feelings.




ETYMOLOGY:

From Latin reticere (to be silent), from re- (again, back), from tacere (to be silent). Earliest documented use: 1603.




USAGE:

"What distinguished Bates was his quietness, reticence, and emotional reserve. No towering rages for him or tirades of invective."

Obituary of Sir Alan Bates;

The Daily Telegraph

(London, UK); Dec 29, 2003.

See more usage examples of

reticence

in Vocabulary.com's

dictionary

.




A THOUGHT FOR TODAY:

The hope of a secure and livable world lies with disciplined nonconformists, who are dedicated to justice, peace, and brotherhood. The trailblazers in human, academic, scientific, and religious freedom have always been nonconformists. In any cause that concerns the progress of mankind, put your faith in the nonconformist! -Martin Luther King, Jr., civil-rights leader (15 Jan 1929-1968)


A.Word.A.Day by email:

Subscribe

"The most welcomed, most enduring piece of daily mass e-mail in cyberspace."