Home
Jan 14, 2016
This week's theme
Vocab words
This week's words
onerous
torpor
welter
invective
reticence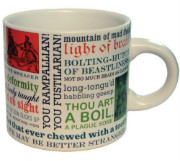 Shakespearean invectives
---






A.Word.A.Day

with Anu Garg


invective
PRONUNCIATION:
(in-VEK-tiv)




MEANING:

noun: An insulting or abusive criticism or expression.




ETYMOLOGY:

From Latin invehi (to attack with words), from invehere (to carry in). Ultimately from the Indo-European root wegh- (to go or to transport in a vehicle), which also gave us deviate, way, weight, wagon, vogue, vehicle, vector, envoy, trivial, and

inveigh

. Earliest documented use: 1430.




USAGE:

"The author does have some good points ... but they get lost in a welter of invective and innuendo."

Stephen Schecter; Singularly Peevish View of Canada;

The Gazette

(Montreal, Canada); Jul 22, 1995.

See more usage examples of

invective

in Vocabulary.com's

dictionary

.




A THOUGHT FOR TODAY:

A man does not have to be an angel in order to be saint. -Albert Schweitzer, philosopher, physician, musician, Nobel laureate (14 Jan 1875-1965)


A.Word.A.Day by email:

Subscribe

"The most welcomed, most enduring piece of daily mass e-mail in cyberspace."