Home
Oct 28, 2016
This week's theme
Words formed by dialectal pronunciation
This week's words
ornery
passel
sassy
tarnal
raiment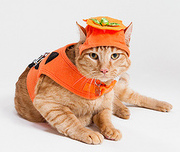 ---






A.Word.A.Day

with Anu Garg


raiment
PRONUNCIATION:
(RAY-muhnt)




MEANING:

noun: Clothing.




ETYMOLOGY:

Alteration of arrayment, from array, from Old French arrayer (to array). Ultimately from the Indo-European root reidh- (to ride), which also gave us ride, raid, road, and ready. Earliest documented use: 1425.




USAGE:

"I wear this raiment while working at my desk."

Tom Wolfe; My Favorite Thing;

Esquire

(New York); Sep 2016.

See more usage examples of

raiment

in Vocabulary.com's

dictionary

.




A THOUGHT FOR TODAY:

It is a curious thing that every creed promises a paradise which will be absolutely uninhabitable for anyone of civilized taste. -Evelyn Waugh, novelist (28 Oct 1903-1966)


A.Word.A.Day by email:

Subscribe

"The most welcomed, most enduring piece of daily mass e-mail in cyberspace."