Home
Oct 25, 2016
This week's theme
Words formed by dialectal pronunciation
This week's words
ornery
passel
sassy
tarnal
raiment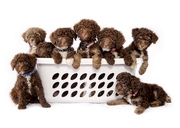 ---






A.Word.A.Day

with Anu Garg


passel
PRONUNCIATION:
(PAS-uhl)




MEANING:

noun: A large group or a large number.




ETYMOLOGY:

Alteration of parcel, from Anglo-French parcele, from Latin particella, diminutive of particula (small part), diminutive of pars (part). Earliest documented use: 1325.




USAGE:

"Must be tough, going from no relatives at all to a whole passel of them."

Vicki Lewis Thompson;

Midnight Thunder

; Harlequin; 2015.

See more usage examples of

passel

in Vocabulary.com's

dictionary

.




A THOUGHT FOR TODAY:

The measure of a man's real character is what he would do if he knew he would never be found out. -Thomas Babington Macaulay, author and statesman (25 Oct 1800-1859)


A.Word.A.Day by email:

Subscribe

"The most welcomed, most enduring piece of daily mass e-mail in cyberspace."