Home
Sep 24, 2015
This week's theme
Words about words
This week's words
kenning
mot juste
holophrasm
pochismo
antonomasia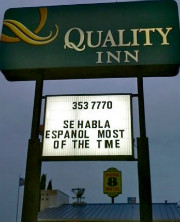 ---






A.Word.A.Day

with Anu Garg


pochismo
PRONUNCIATION:
(po-CHEEZ-mo)




MEANING:

noun
1. An English word borrowed into Spanish, often given a Spanish form or spelling, such as mopear (to mop) instead of trapear or limpiar.
2. American customs, attitudes, etc., adopted by a Hispanic in the US and perceived pejoratively by his compatriots.




ETYMOLOGY:

From Spanish pocho (discolored, faded). Earliest documented use: 1944.




NOTES:

Pocho is a derogatory term used by a Hispanic for a fellow countryman living in the US who is perceived to have lost his culture and adopted American attitudes, and speaks Spanglish (Spanish heavily influenced by English).




USAGE:

"It was not until I was an adult and studying Spanish literature formally at the University of Texas at Austin that I questioned the fine line which designated certain words as pochismos and others as acceptable Spanish."
Aida Barrera; Looking for Carrascolendas; University of Texas Press; 2001.




A THOUGHT FOR TODAY:

In my youth I thought of writing a satire on mankind; but now in my age I think I should write an apology for them. -Horace Walpole, novelist and essayist (24 Sep 1717-1797)


A.Word.A.Day by email:

Subscribe

"The most welcomed, most enduring piece of daily mass e-mail in cyberspace."