Home
Sep 23, 2015
This week's theme
Words about words
This week's words
kenning
mot juste
holophrasm
pochismo
antonomasia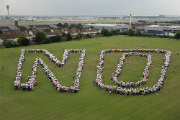 Residents of the village of Harmondsworth, on expansion of Heathrow airport
---






A.Word.A.Day

with Anu Garg


holophrasm
PRONUNCIATION:
(HOL-uh-fraz-um)




MEANING:

noun:
1. A one-word sentence, for example, "Go."
2. A complex idea conveyed in a single word, for example, "Howdy" for "How do you do?"




ETYMOLOGY:

From Greek holos (whole) + phrasis (speech). Earliest documented use: 1862.




USAGE:

"Holophrasms aren't common in English, but any verb in command form can be holophrastic -- Go, Help, Run."
Kathryn Schulz; What Part of 'No, Totally' Don't You Understand?; The New Yorker; Apr 7, 2015.




A THOUGHT FOR TODAY:

Our conscience is not the vessel of eternal verities. It grows with our social life, and a new social condition means a radical change in conscience. -Walter Lippmann, journalist (23 Sep 1889-1974)


A.Word.A.Day by email:

Subscribe

"The most welcomed, most enduring piece of daily mass e-mail in cyberspace."