Home
Jul 21, 2017
This week's theme
Random words
This week's words
retral
lateritious
coadjutant
empyrean
niveous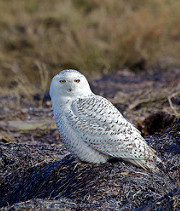 This week's comments
AWADmail 786
Next week's theme
There's a word for it
---






A.Word.A.Day

with Anu Garg


niveous
PRONUNCIATION:
(NIV-ee-uhs)




MEANING:

adjective: Snowy or resembling snow.




ETYMOLOGY:

From Latin niveus, from nix (snow). Earliest documented use: 1623.




USAGE:

"Here, wooded hills rolled gently away to a horizon wrapped in a niveous haze."
Cecilia Dart-Thornton; The Ill-Made Mute; Warner Books; 2015.




A THOUGHT FOR TODAY:

All my life I've looked at words as though I were seeing them for the first time. -Ernest Hemingway, author and journalist, Nobel laureate (21 Jul 1899-1961)


A.Word.A.Day by email:

Subscribe

"The most welcomed, most enduring piece of daily mass e-mail in cyberspace."