Home
Jan 6, 2015
This week's theme
Words relating to books
This week's words
bildungsroman
longueur
peripeteia
locus classicus
litterateur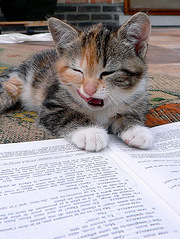 ---






A.Word.A.Day

with Anu Garg


longueur
PRONUNCIATION:
(long-GUHR)




MEANING:

noun: A long and dull passage in a work of literature.




ETYMOLOGY:

From French longueur (length), from Latin longus (long). Ultimately from the Indo-European root del- (long), which also gave us lounge, lunge, linger, longitude, long, belong, and along. Earliest documented use: 1791.




USAGE:

"Even the sainted Douglas Adams wasn't above the occasional infuriatingly indulgent longueur, such as basing the whole of his least good book on an extended metaphor involving cricket."

Euan Ferguson; And Another Thing;

The Observer

(London, UK); Oct 11, 2009.

See more usage examples of

longueur

in Vocabulary.com's

dictionary

.




A THOUGHT FOR TODAY:

He who listens to truth is not less than he who utters truth. -Kahlil Gibran, poet and artist (6 Jan 1883-1931)


A.Word.A.Day by email:

Subscribe

"The most welcomed, most enduring piece of daily mass e-mail in cyberspace."