Home
Jan 9, 2015
This week's theme
Words relating to books
This week's words
bildungsroman
longueur
peripeteia
locus classicus
litterateur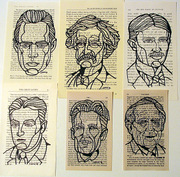 Sebastian Junger, Mark Twain, Stephen Crane
F. Scott Fitzgerald, Orwell, Tolkein
This week's comments
AWADmail 654
Next week's theme
There's a word for it
---






A.Word.A.Day

with Anu Garg


litterateur
PRONUNCIATION:
(lit-uhr-uh-TUR, lit-ruh-)




MEANING:

noun: An author of literary or critical works.




ETYMOLOGY:

From French littérateur, from Latin litterator (teacher of letters, grammarian, critic), from litterae (letters, literature), from littera (letter). Earliest documented use: 1806.




USAGE:

"No major English cemetery would be complete without its poets and litterateurs."

Carolyn Lyons; A Visit to London's Cemeteries;

Los Angeles Times

; Mar 17, 2013.

See more usage examples of

litterateur

in Vocabulary.com's

dictionary

.




A THOUGHT FOR TODAY:

The easiest kind of relationship for me is with ten thousand people. The hardest is with one. -Joan Baez, musician (b. 9 Jan 1941)


A.Word.A.Day by email:

Subscribe

"The most welcomed, most enduring piece of daily mass e-mail in cyberspace."