Home
Dec 8, 2014
This week's theme
Illustrated words
This week's words
juggernaut
klatsch
oneiric
scandent
zymology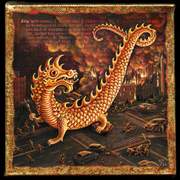 ---






A.Word.A.Day

with Anu Garg

I gave the artist Leah Palmer Preiss (curiouser AT mindspring.com) five words and she illustrated them as you'll see in this week's A.Word.A.Day. After looking at her art, I may have to amend the popular saying. I think a picture is worth a million words.

Every year for the last several years she has shared her art with readers of A.Word.A.Day, and this week again we'll feature five words illustrated in Leah's palette. See earlier years here, here, and here. Visit her website at leahpalmerpreiss.com.
juggernaut
PRONUNCIATION:
(JUG-uhr-not)




MEANING:

noun:
1. Anything requiring blind sacrifice.
2. A massive relentless force, person, institution, etc. that crushes everything in its path.




ETYMOLOGY:

From Hindi jagannath (one of the titles Krishna, a Hindu god, has), from Sanskrit jagannath, from jagat (world) + nath (lord). A procession of Jagannath takes place each year at Puri, India. Devotees pull a huge cart carrying the deity. Some have been accidentally crushed under the wheels (or are said to have thrown themselves under them). Earliest documented use: 1638.




USAGE:

"Amazon is a retailing juggernaut, but its revenues are still a fraction of those of Walmart, whose tills ring up about $900,000 a minute."

Big Companies' Revenue and Profit;

The Economist

(London); Feb 8, 2014.

See more usage examples of

juggernaut

in Vocabulary.com's

dictionary

.




A THOUGHT FOR TODAY:

The real index of civilization is when people are kinder than they need to be. -Louis de Bernieres, novelist (b. 1954)


A.Word.A.Day by email:

Subscribe

"The most welcomed, most enduring piece of daily mass e-mail in cyberspace."