Home
Nov 6, 2023
This week's theme
Creative usage examples
This week's words
gleek
gowpen
fractal
glabella
diachrony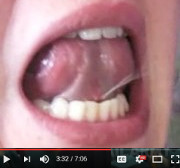 How to gleek (video)
Previous week's theme
Is it a noun, adjective, or verb?
---






A.Word.A.Day

with Anu Garg

Finding unusual, new, whimsical, I-didn't-know-there-was-a-word-for-it kind of words is delightful. But that's only half the story. The other is usage.

A word just sitting between the sheets of a dictionary, waiting, can be restless.

A word wants to be manipulated. "Use me," it says. "Like I'm your servant."

"Play with me."

I dive into magazines, newspapers, books, websites, and more, chasing words down to see what they are up to. I watch their antics, admiring their wordplay and whatever new positions they come up with.

This week I have selected five usage examples that are more than functional. They illustrate the usage of words, but they do it in such a playful manner.
gleek
PRONUNCIATION:
(gleek)

MEANING:
| | |
| --- | --- |
| noun: | 1. A jest or trick. |
| | 2. A stream of saliva. |
| verb | 1. To play a trick. |
| tr., intr.: | 2. To discharge a stream of saliva, especially from under the tongue. |



ETYMOLOGY:

Of unknown origin. Earliest documented use: 1540.




USAGE:

"I have seen you gleeking and galling at this gentleman twice or thrice."
William Shakespeare; Henry V; 1623.

"It feels as if God is gleeking his holy saliva onto my face when I use ["Apple Brightening Mist, $16.69"] to cool down after a workout."
Aimee Heckel; End of Summer Might Be Approaching, But Style Always Matters; The Daily Camera (Boulder, Colorado); Aug 2, 2013.




A THOUGHT FOR TODAY:

I don't think that combat has ever been written about truthfully; it has always been described in terms of bravery and cowardice. I won't even accept these words as terms of human reference any more. And anyway, hell, they don't even apply to what, in actual fact, modern warfare has become. -James Jones, novelist (6 Nov 1921-1977)


We need your help

Help us continue to spread the magic of words to readers everywhere

Donate