Home
Feb 19, 2016
This week's theme
Words formed in error
This week's words
megrim
posthumous
lutestring
messuage
frontispiece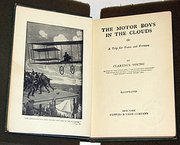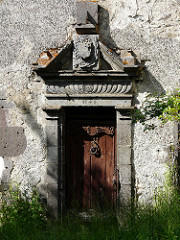 This week's comments
AWADmail 712
Next week's theme
Miscellaneous words
---






A.Word.A.Day

with Anu Garg


frontispiece
PRONUNCIATION:
(FRUN-ti-spees)




MEANING:

noun:
1. An illustration facing or preceding the title page of a book.
2. A facade, especially an ornamental facade, of a building.
3. An ornamental pediment over a door or window.




ETYMOLOGY:

The word was formed by corruption of French frontispice by association with the word 'piece'. It's from Latin frontispicium (facade), from front- (front) + specere (to look). Ultimately from the Indo-European root spek- (to observe), which also gave us spy, spice, species, suspect, expect, spectrum, despise, despicable, bishop, telescope, specious,

speciesism

,

soupcon

,

prospicient

,

perspicuous

,

speculum

,

omphaloskepsis

, and

conspectus

. Earliest documented use: 1598.




USAGE:

"I still have the physical copy, its frontispiece decorated with characters from the stories."

Francine Prose & Ayana Mathis; Bookends;

The New York Times Book Review

; Oct 26, 2014.

"An ornate frontispiece above the front door, shutters, and flower boxes add charm to the white painted brick facade."

Lauren Beale; Eva Gabor's Onetime Estate in Holmby Hills is for Sale;

Los Angeles Times

; Oct 22, 2015.

See more usage examples of

frontispiece

in Vocabulary.com's

dictionary

.




A THOUGHT FOR TODAY:

There's nothing that makes you so aware of the improvisation of human existence as a song unfinished. Or an old address book. -Carson McCullers, writer (19 Feb 1917-1967)


A.Word.A.Day by email:

Subscribe

"The most welcomed, most enduring piece of daily mass e-mail in cyberspace."