Home
Aug 2, 2016
This week's theme
Verbs
This week's words
calumniate
floccipend
exonerate
foozle
propitiate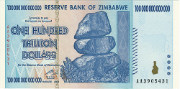 100 trillion Zimbabwean dollars
A banknote from 2009
Photo: Wikimedia
---






A.Word.A.Day

with Anu Garg


floccipend
PRONUNCIATION:
(FLOK-si-pend)




MEANING:

verb tr.: To regard as worthless.




ETYMOLOGY:

From Latin flocci, from floccus (tuft of wool) + pendere (to weigh or consider). Earliest documented use: 1548. A related word is

floccinaucinihilipilification

.




USAGE:

"Harvey was penned off among the 'black sheep' in a profession prone to floccipend odd locks of thought from woolly-headed thinkers."
William Thomson; Bacon and Shakespeare on Vivisection; Sands & McDougall; 1881.




A THOUGHT FOR TODAY:

I love America more than any other country in this world, and, exactly for this reason, I insist on the right to criticize her perpetually. -James Baldwin, writer (2 Aug 1924-1987)


A.Word.A.Day by email:

Subscribe

"The most welcomed, most enduring piece of daily mass e-mail in cyberspace."