Home
Aug 3, 2016
This week's theme
Verbs
This week's words
calumniate
floccipend
exonerate
foozle
propitiate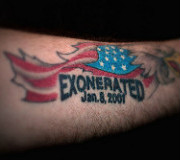 ---






A.Word.A.Day

with Anu Garg


exonerate
PRONUNCIATION:
(ig-ZON-uh-rayt)




MEANING:

verb tr.: 1. To free from blame. 2. To release from a task or obligation.




ETYMOLOGY:

From Latin ex- (from) + onus (burden), which also gave English onus and onerous. Earliest documented use: 1524.




USAGE:




A THOUGHT FOR TODAY:

What a child doesn't receive he can seldom later give. -P.D. James, novelist (3 Aug 1920-2014)


A.Word.A.Day by email:

Subscribe

"The most welcomed, most enduring piece of daily mass e-mail in cyberspace."