Home
Sep 2, 2015
This week's theme
Verbs
This week's words
fribble
belie
descry
cosset
beleaguer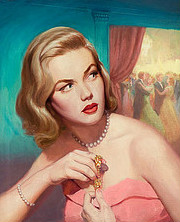 ---






A.Word.A.Day

with Anu Garg


descry
PRONUNCIATION:
(di-SKRY)




MEANING:

verb tr.:
1. To catch sight of.
2. To discover or detect.




ETYMOLOGY:

From Old French descrier (to cry out), from crier (to cry), from Latin critare, from quiritare (to cry out). Earliest documented use: before 1400. A shortening of the word descry resulted in

scry

.




USAGE:

"And as for the view of seven states, that turned out to be hogwash; you can descry only three from Lookout Mountain."

Will Self; On Location;

New Statesman

(London, UK); Aug 22, 2014.

See more usage examples of

descry

in Vocabulary.com's

dictionary

.




A THOUGHT FOR TODAY:

Progressive societies outgrow institutions as children outgrow clothes. -Henry George, economist, journalist, philosopher (2 Sep 1839-1897)


A.Word.A.Day by email:

Subscribe

"The most welcomed, most enduring piece of daily mass e-mail in cyberspace."