Home
Sep 3, 2015
This week's theme
Verbs
This week's words
fribble
belie
descry
cosset
beleaguer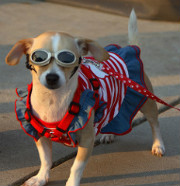 ---






A.Word.A.Day

with Anu Garg


cosset
PRONUNCIATION:
(KOS-et)




MEANING:

verb tr.: To pamper.
noun: A pet; a spoiled child.




ETYMOLOGY:

Of uncertain origin, probably from Old English cotsaeta (cot sitter or cot dweller). Ultimately from the Indo-European root sed- (to sit), which is also the source of sit, chair, saddle, assess, sediment, soot, cathedral, tetrahedron,

sessile

,

surcease

,

assiduous

, and

eyas

. Earliest documented use: 1579.




USAGE:

"As the youngest of six surviving children, Tom was distinctly cosseted, especially by his doting mother."

Michael Dirda; T.S. Eliot's American Childhood;

The Washington Post

; Apr 15, 2015.

See more usage examples of

cosset

in Vocabulary.com's

dictionary

.




A THOUGHT FOR TODAY:

Form follows function. -Louis Sullivan, architect (3 Sep 1856-1924)


A.Word.A.Day by email:

Subscribe

"The most welcomed, most enduring piece of daily mass e-mail in cyberspace."