Home
Dec 2, 2016
This week's theme
Onomatopoeic words
This week's words
gnar
cackle
susurrate
blubber
chunter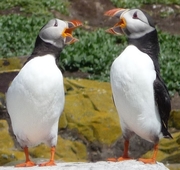 This week's comments
AWADmail 753
Next week's theme
Illustrated words
---






A.Word.A.Day

with Anu Garg


chunter
PRONUNCIATION:
(CHUHN-tuhr)




MEANING:

verb intr.: To mutter, grumble, or chatter.




ETYMOLOGY:

Of imitative origin. Earliest documented use: 1599.




USAGE:

"All they [passengers in the train] did was chunter on about lambs, holidays, solar panels, grass growing, farming, the health service, marinades, Niagara Falls, the Taliban, and -- honestly -- noisy neighbours."
Louise James; Biddies Doing My Head In; Belfast Telegraph (Northern Ireland); Mar 27, 2016.




A THOUGHT FOR TODAY:

The question is whether or not you choose to disturb the world around you, or if you choose to let it go on as if you had never arrived. -Ann Patchett, writer (b. 2 Dec 1963)


A.Word.A.Day by email:

Subscribe

"The most welcomed, most enduring piece of daily mass e-mail in cyberspace."