Home
Dec 1, 2016
This week's theme
Onomatopoeic words
This week's words
gnar
cackle
susurrate
blubber
chunter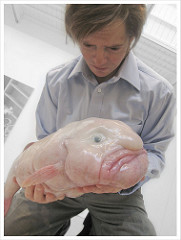 Blobfish
---






A.Word.A.Day

with Anu Garg


blubber
PRONUNCIATION:
(BLUHB-uhr)




MEANING:

verb intr.: To weep noisily.
verb tr.: To speak incoherently while weeping.
adjective: Swollen; puffed out.
noun: 1. The layer of fat in whales and other marine mammals. 2. Excess body fat.




ETYMOLOGY:

From Middle English bluberen (to bubble), from bluber (bubble, foam), of imitative origin. Earliest documented use: c. 1400.




USAGE:

"'I tried to maintain a face that was calm and cool, but I blubbered like a baby,' Joseph Fiennes said."

Fiennes Defends Michael Jackson Role;

The Straits Times

(Singapore); Feb 6, 2016.

See more usage examples of

blubber

in Vocabulary.com's

dictionary

.




A THOUGHT FOR TODAY:

If God exists, I hope he has a good excuse. -Woody Allen, author, actor, and filmmaker (b. 1 Dec 1935)


A.Word.A.Day by email:

Subscribe

"The most welcomed, most enduring piece of daily mass e-mail in cyberspace."