Home
Nov 10, 2015
This week's theme
Words having all five vowels
This week's words
affectious
camelious
adventious
majestious
quodlibetal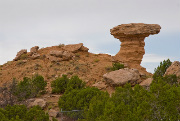 Camel Rock, New Mexico
---






A.Word.A.Day

with Anu Garg


camelious
PRONUNCIATION:
(kuh-MEE-lee-uhs)




MEANING:

adjective: Relating to the camel or its hump.




ETYMOLOGY:

From camel, from Latin camelus, from Greek kamelos. Ultimately from the Semitic root gml (camel), which also gave us jamal and gamal, the Arabic and Hebrew words for camel. Earliest documented use: 1902.




USAGE:

"It seemed a very Arabian thing to do, to sleep under canvas beneath huge hairy camelious blankets, so heavy that we were scarcely able to roll over in our sleep."
A.J. Mackinnon; The Well at the World's End; Skyhorse Publishing; 2011.




A THOUGHT FOR TODAY:

You can preach a better sermon with your life than with your lips. -Oliver Goldsmith, writer and physician (10 Nov 1730-1774)


A.Word.A.Day by email:

Subscribe

"The most welcomed, most enduring piece of daily mass e-mail in cyberspace."