Home
Mar 15, 2016
This week's theme
Playing with words
This week's words
rebus
calligram
ambigram
pangram
acrostic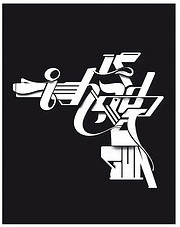 "If I had a gun"
Have you come up with a calligram of your own? Send it to words@wordsmith.org or post it below.
---






A.Word.A.Day

with Anu Garg


calligram
PRONUNCIATION:
(KAL-i-gram)




MEANING:

noun: A word, phrase, or piece of text arranged to form a picture of the subject described.




ETYMOLOGY:

From French calligramme, from Greek calli- (beautiful) + -gram (something written). Earliest documented use: 1923. A word with the same root is

callipygian

.




NOTES:

One of the best-known practitioners of the form was the French poet and writer Guillaume Apollinaire, whose work was published in the book

Calligrammes

.




USAGE:

"In his calligram, not only does [Joseph Cornell] mention the names of artists, poets, and musicians alongside the names of scientists and their inventions, he also transforms the building of the laboratory/observatory itself into a sort of puzzle of words."
Analisa Pauline Leppanen-Guerra; Children's Stories and "Child-Time" in the Works of Joseph Cornell and the Transatlantic Avant-Garde; Ashgate Publishing; 2011.




A THOUGHT FOR TODAY:

Beware of the stories you read or tell; subtly, at night, beneath the waters of consciousness, they are altering your world. -Ben Okri, poet and novelist (b. 15 Mar 1959)


A.Word.A.Day by email:

Subscribe

"The most welcomed, most enduring piece of daily mass e-mail in cyberspace."