Home
Mar 18, 2016
This week's theme
Playing with words
This week's words
rebus
calligram
ambigram
pangram
acrostic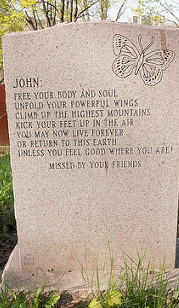 A tombstone in Montreal (
story
)
This week's comments
AWADmail 716
Next week's theme
Words with unusual plurals
---






A.Word.A.Day

with Anu Garg


acrostic
PRONUNCIATION:
(a-KRAW-stik, a-KRAWS-tik)




MEANING:

noun: A composition in which the first letter of each line spells out a word or message.




ETYMOLOGY:

From Latin acrostichis, from Greek akrostikhis, from akron (head) + stikhos (line). Earliest documented use: 1585. A word with the same root is

acrophobia

.




NOTES:

When the spelled-out word is in the middle (instead of from the initial letters), it's called a mesostic (

example

). Also see, a

meta acrostic

.




USAGE:

"In 2009, Schwarzenegger released a

memorable message

. He used a vulgar acrostic to reject a bill by Assemblyman Tom Ammiano."

Michael Mishak & Anthony York; Brown Sends a Message With His Pen;

Los Angeles Times

; Oct 8, 2011.

See more usage examples of

acrostic

in Vocabulary.com's

dictionary

.




A THOUGHT FOR TODAY:

Shelved rows of books warm and brighten the starkest room, and scattered single volumes reveal mental processes in progress -- books in the act of consumption, abandoned but readily resumable, tomorrow or next year. -John Updike, writer (18 Mar 1932-2009)


A.Word.A.Day by email:

Subscribe

"The most welcomed, most enduring piece of daily mass e-mail in cyberspace."