Apr 2, 2012
This week's theme
French words that are now anglicized
This week's words
alley-oop
kickshaw
toot sweet
parry
mayday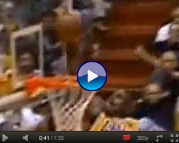 If a picture is worth a thousand words, a video is perhaps worth a million
See NBA Top 10 Alley-Oops
---

Discuss

Feedback

RSS/XML
---






A.Word.A.Day

with Anu Garg

French puisné becomes puny when it crosses the water to land in the English-speaking world. Petit turns petty. That's how words naturalize. They adapt to their new surroundings.

They lose their accent marks. They shed their silent letters. They drop markers of their previous lives when they enter the land of Anglophonia.

Of course, there are two sides to each coin. If you were to ask the French, they'd claim these are French words that have been corrupted in English.

For this week's A.Word.A.Day we've selected five words that are completely anglicized. They come with no nasal sounds, no lip-rounding, no berets.
alley-oop
PRONUNCIATION:
(al-ee-OOP)




MEANING:

interjection: Used as an exhortation or to signal the start of an activity. For example, when coordinating efforts to lift something heavy.
noun: A basketball move in which a player throws the ball to a teammate near the basket who leaps to catch it in mid-air and then puts it in the basket before returning to the floor.




ETYMOLOGY:

Phonetic respelling of French allez-hop or allez-oop, cry of a circus performer about to leap. From French allez, imperative of aller (to go) + hop/oop (an expressive word). Earliest documented use: 1923.




USAGE:

"You couldn't haul bodies without a partner and you needed to be able to talk, even if it was only to say alley-oop."
Cory Doctorow; Overclocked; Thunder's Mouth Press; 2007.

"Jawanza Poland soared to the basket and flushed home an alley oop."
Pete Thamel, et al; Bearcats Knock Off Florida State; The New York Times; Mar 19, 2012.


See more usage examples of alley-oop in Vocabulary.com's dictionary.



A THOUGHT FOR TODAY:

Although men flatter themselves with their great actions, they are not so often the result of a great design as of chance. -Francois, duc de La Rochefoucauld, moralist (1613-1680)