Home
Dec 3, 2015
This week's theme
Illustrated words
This week's words
gramarye
quacksalver
viridity
yobbery
xenophile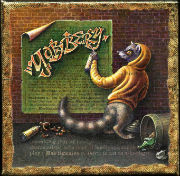 ---






A.Word.A.Day

with Anu Garg


yobbery
PRONUNCIATION:
(YOB-uh-ree)




MEANING:

noun: Rowdy, destructive behavior by the youth.




ETYMOLOGY:

From yob (a rowdy youth), coined by reversing the spelling of the word boy. Earliest documented use: 1974.




USAGE:

"A police crackdown on yobbery during the Bonfire Night period in Stirlingshire proved effective. Police report the number of calls concerning antisocial behaviour between October 30 and November 6 were down by over a third."
Yobs Getting the Message; Stirling Observer (UK); Nov 13, 2013.




A THOUGHT FOR TODAY:

A story should have a beginning, a middle, and an end, but not necessarily in that order. -Jean-Luc Godard, film director (b. 3 Dec 1930)


A.Word.A.Day by email:

Subscribe

"The most welcomed, most enduring piece of daily mass e-mail in cyberspace."