Home
Aug 18, 2015
This week's theme
Adverbs
This week's words
ad hoc
wherewith
inter alia
athwart
pro rata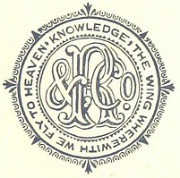 From the book Isabel St. Clair
---






A.Word.A.Day

with Anu Garg


wherewith
PRONUNCIATION:
(hwer-WITH)




MEANING:

adverb: With which.
pronoun: The thing(s) with which.
conjunction: By means of which.




ETYMOLOGY:

From where + with. Earliest documented use: 1200.




USAGE:

"When a brilliant student completes his work ahead of schedule, he is granted an award of time and means wherewith he may execute some pet project of his own devising."
The Urantia Book; Urantia; 1955.




A THOUGHT FOR TODAY:

Dreams heed no borders, the eyes need no visas. With eyes shut I walk across the line in time. All the time. -Gulzar, poet, lyricist, and film director (b. 18 Aug 1934)


A.Word.A.Day by email:

Subscribe

"The most welcomed, most enduring piece of daily mass e-mail in cyberspace."