Home
Dec 22, 2015
This week's theme
Yours to discover
This week's words
quoz
vidimus
pinchbeck
jayhawker
expergefacient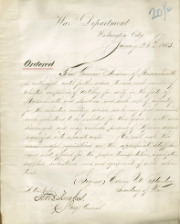 A vidimus of a letter of authorizing Massachusetts governor to enlist Black volunteers in a regiment
---






A.Word.A.Day

with Anu Garg


vidimus
PRONUNCIATION:
(VAI-di-muhs)




MEANING:

noun: 1. An attested copy of a document. 2. An official inspection.




ETYMOLOGY:

From Latin vidimus (we have seen), from videre (to see). Ultimately from the Indo-European root weid- (to see), which also gave us guide, wise, vision, advice, idea, story, history,

vizard

,

videlicet

,

prudential

,

previse

, and

invidious

. Earliest documented use: 1436.




USAGE:

"The final letter was a vidimus bearing the great seal of Philip the Fair, purportedly confirming the marriage contract between Philip of Artois and Blanche of Brittany."
Margaret Reeves, et al.; Shell Games; CRRS Publications; 2004.




A THOUGHT FOR TODAY:

No one else sees the world the way you do, so no one else can tell the stories that you have to tell. -Charles de Lint, writer (b. 22 Dec 1951)


A.Word.A.Day by email:

Subscribe

"The most welcomed, most enduring piece of daily mass e-mail in cyberspace."