Home
Oct 15, 2015
This week's theme
Words with hooks
This week's words
ambit
peculate
resumptive
uberous
olio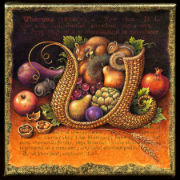 ---






A.Word.A.Day

with Anu Garg


uberous
PRONUNCIATION:
(YOO-buhr-uhs)




MEANING:

adjective: Abundant; fruitful.




ETYMOLOGY:

From Latin uber (rich, fruitful, abundant, etc.). Earliest documented use: 1624.




USAGE:

"School Principal lauded the Primary teachers for their uberous contribution in preparing the small kids for their best presentations."
Vishwa Bharati Celebrates Janam Ashtami; Early Times (India); Sep 2, 2015.




A THOUGHT FOR TODAY:

The higher we soar the smaller we appear to those who cannot fly. -Friedrich Wilhelm Nietzsche, philosopher (15 Oct 1844-1900)


A.Word.A.Day by email:

Subscribe

"The most welcomed, most enduring piece of daily mass e-mail in cyberspace."