Home
Sep 21, 2016
This week's theme
Words borrowed from German
This week's words
kitsch
verboten
ubermensch
gauleiter
clerisy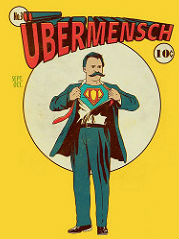 ---






A.Word.A.Day

with Anu Garg


ubermensch
PRONUNCIATION:
(OO-buhr-mensch)




MEANING:

noun: An ideal man; also used ironically.




ETYMOLOGY:

From German Übermensch (superman), from über (over) + Mensch (man). In Nietzschean philosophy, an Übermensch is an ideal superior being. Earliest documented use: 1902. Also see

mensch

and

luftmensch

.




USAGE:

"Trump, the thrice-married ubermensch who jokes about Megyn Kelly's period, is the more usual reality."

Ross Douthat;

A Playboy for President

;

The New York Times

; Aug 13, 2016.

See more usage examples of

ubermensch

in Vocabulary.com's

dictionary

.




A THOUGHT FOR TODAY:

Good books don't give up all their secrets at once. -Stephen King, novelist (b. 21 Sep 1947)


A.Word.A.Day by email:

Subscribe

"The most welcomed, most enduring piece of daily mass e-mail in cyberspace."