Home
Nov 24, 2015
This week's theme
Words to describe people
This week's words
stridulous
torpid
fastuous
impertinent
bibulous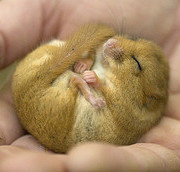 Torpid Hazel Dormouse
---






A.Word.A.Day

with Anu Garg


torpid
PRONUNCIATION:
(TOR-pid)




MEANING:

adjective:
1. Sluggish or inactive.
2. Apathetic.
3. Dormant as when hibernating.




ETYMOLOGY:

From Latin torpidus (numb), from torpere (to be stiff or numb). Ultimately from the Indo-European root ster- (stiff), which also gave us starch, stare, stork, starve, cholesterol, and torpedo. Earliest documented use: 1613.




USAGE:

"Gary is a torpid man who works as a translator for the CIA in the Washington area. He's neither shaken nor stirred."

Ron Charles; Life of a Spy Doomed to Rot in Place;

The Washington Post

; Nov 19, 2014.

See more usage examples of

torpid

in Vocabulary.com's

dictionary

.




A THOUGHT FOR TODAY:

There's really no such thing as the 'voiceless'. There are only the deliberately silenced or the preferably unheard. -Arundhati Roy, author (b. 24 Nov 1961)


A.Word.A.Day by email:

Subscribe

"The most welcomed, most enduring piece of daily mass e-mail in cyberspace."