Home
Dec 30, 2016
This week's theme
Long words
This week's words
chintz
sesquipedalian
dermatoglyphics
hemidemisemiquaver
supercalifragilisticexpialidocious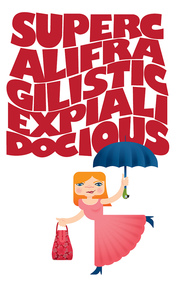 ---






A.Word.A.Day

with Anu Garg


supercalifragilisticexpialidocious
PRONUNCIATION:
(soo-puhr-ka-li-fra-juh-lis-tik-eks-pi-uh-li-DO-shuhs)




MEANING:

adjective: Extraordinarily wonderful.




ETYMOLOGY:

A fanciful formation. Earliest documented use is from 1949, though this word was popularized by the 1964 film Mary Poppins.




USAGE:

"You might as well say, 'Let's give the customer a supercalifragilisticexpialidocious experience.' But saying it doesn't make it so."
Lewis Carbone; Clued In; Pearson; 2010.




A THOUGHT FOR TODAY:

The past is a foreign country; they do things differently there. -L.P. Hartley, writer (30 Dec 1895-1972)


A.Word.A.Day by email:

Subscribe

"The most welcomed, most enduring piece of daily mass e-mail in cyberspace."