Home
Jul 22, 2016
This week's theme
Words related to politics and elections
This week's words
shermanesque
carpetbagger
logrolling
dog whistle
suffrage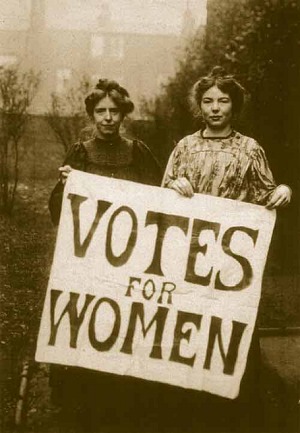 Annie Kenney & Christabel Pankhurst, Suffragists
Photo: Wikimedia
This week's comments
AWADmail 734
Next week's theme
Words to describe people
---






A.Word.A.Day

with Anu Garg


suffrage
PRONUNCIATION:
(SUF-rij)




MEANING:

noun: The right to vote; also, the exercise of such a right.




ETYMOLOGY:

From French suffrage, from Latin suffragium (voting tablet, right to vote). Ultimately from the Indo-European root bhreg- (to break), which also gave us break, breach, fraction, fragile, fractal, infringe,

irrefragable

, and

fractious

. Suffrage? Because a broken piece of tile was used as a ballot in the past. Earliest documented use: 1380.




USAGE:

"Victoria Claflin Woodhull, a leader in the women's suffrage movement, was the first woman to run for the US presidency, though she couldn't even vote for herself on election day, Nov 5, 1872."

Simon Carswell; She is a Tough Lady. She is All of Our Hero;

Irish Times

(Dublin); Jun 9, 2016.

See more usage examples of

suffrage

in Vocabulary.com's

dictionary

.




A THOUGHT FOR TODAY:

Give me your tired, your poor, / Your huddled masses yearning to breathe free, / The wretched refuse of your teeming shore. / Send these, the homeless, tempest-tost to me, / I lift my lamp beside the golden door! -Emma Lazarus, poet and playwright (22 Jul 1849-1887) [from a poem written to raise funds for building the pedestal of the Statue of Liberty]


A.Word.A.Day by email:

Subscribe

"The most welcomed, most enduring piece of daily mass e-mail in cyberspace."