Home
Jun 11, 2015
This week's theme
Toponyms
This week's words
antimacassar
podunk
charlatan
spaniel
Jerusalem syndrome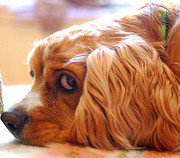 ---






A.Word.A.Day

with Anu Garg


spaniel
PRONUNCIATION:
(SPAN-yuhl)




MEANING:

noun:
1. A submissive or fawning person.
2. Any of several breeds of small to medium-sized dogs with long drooping ears and a silky coat.




ETYMOLOGY:

From Old French espaignol/espaigneul (Spanish dog), from Hispaniolus (Spanish), from Hispania (Spain). Earliest documented use: 1386.




USAGE:

"Helena: I am your spaniel. And, Demetrius,

The more you beat me, I will fawn on you."

William Shakespeare;

A Midsummer Night's Dream

; 1590s.

See more usage examples of

spaniel

in Vocabulary.com's

dictionary

.




A THOUGHT FOR TODAY:

I never saw an ugly thing in my life: for let the form of an object be what it may, -- light, shade, and perspective will always make it beautiful. -John Constable, painter (11 Jun 1776-1837)


A.Word.A.Day by email:

Subscribe

"The most welcomed, most enduring piece of daily mass e-mail in cyberspace."