Home
Sep 27, 2016
This week's theme
Words coined after animals
This week's words
henchman
poodle-faker
harebrained
duck soup
skylark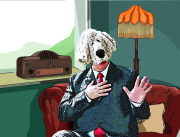 ---






A.Word.A.Day

with Anu Garg


poodle-faker
PRONUNCIATION:
(POOD-l fay-kuhr)




MEANING:

noun: A man who seeks out the company of upper-status women, especially for advancing himself.




ETYMOLOGY:

The term poodle-faker was British slang for a newly commissioned officer who cultivates female company, especially for social or professional advancement. From poodle (a breed developed to retrieve game from the water), from German Pudel (poodle), from Low German pudeln (to splash about), from pudel (puddle). Earliest documented use: 1902.




USAGE:

"Too many people still think of Liszt as a long-haired, pianistic poodle-faker, seducing aristocratic ladies with superficially glittering pieces that have more notes than substance."
David Mellor; Franz is Top of My Liszt; Mail on Sunday (London, UK); Jan 23, 2011.




A THOUGHT FOR TODAY:

The central function of imaginative literature is to make you realize that other people act on moral convictions different from your own. -William Empson, literary critic and poet (27 Sep 1906-1984)


A.Word.A.Day by email:

Subscribe

"The most welcomed, most enduring piece of daily mass e-mail in cyberspace."