Home
Sep 13, 2016
This week's theme
Words to describe people
This week's words
boulevardier
pachyderm
revenant
rhapsode
bon viveur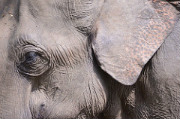 ---






A.Word.A.Day

with Anu Garg


pachyderm
PRONUNCIATION:
(PAK-i-duhrm)




MEANING:

noun
1. Someone or something having thick skin, for example, elephant, hippopotamus, and rhinoceros.
2. An insensitive person.
3. A person who is not affected by criticism or ridicule.




ETYMOLOGY:

From French pachyderme, from Greek pakhudermos (thick-skinned), from pakhus (thick) + derma (skin). Ultimately from the Indo-European root der- (to split, peel, or flay), which also gave us tear, tart, turd, and Hindi dalit (oppressed, crushed). Earliest documented use: 1828.




USAGE:

"This pachyderm we work for can survive a few slings and arrows."

Arthur Hailey;

Overload

; Doubleday; 1979.

See more usage examples of

pachyderm

in Vocabulary.com's

dictionary

.




A THOUGHT FOR TODAY:

Much of writing might be described as mental pregnancy with successive difficult deliveries. -J.B. Priestley, author (13 Sep 1894-1984)


A.Word.A.Day by email:

Subscribe

"The most welcomed, most enduring piece of daily mass e-mail in cyberspace."