Home
Apr 7, 2017
This week's theme
Words with irregular plurals
This week's words
chrysalis
imago
tour de force
bourgeois
oxymoron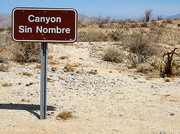 Canyon Sin Nombre
This week's comments
AWADmail 771
Next week's theme
Eponyms from Greek mythology
---






A.Word.A.Day

with Anu Garg


oxymoron
PRONUNCIATION:
(ok-see-MOR-on, -mor-)

plural oxymorons or oxymora (ok-see-MOR-uh, -mor-uh)




MEANING:

noun: A figure of speech in which two contradictory terms appear together for emphasis, for example, "deafening silence".




ETYMOLOGY:

From Greek oxymoron, from neuter of oxymoros (sharp dull), from oxys (sharp) + moros (dull). The word moron comes from the same root. Earliest documented use: 1656.




USAGE:

"Karen ... stood regal and slim, statuesque even, or just plain beautiful, oxymoron notwithstanding."

Nicholas Aharon Boggioni;

The Fundamentalist's Daughter

; Xlibris; 2016.

See more usage examples of

oxymoron

in Vocabulary.com's

dictionary

.




A THOUGHT FOR TODAY:

The best portion of a good man's life is his little, nameless, unremembered acts of kindness and of love. -William Wordsworth, poet (7 Apr 1770-1850)


A.Word.A.Day by email:

Subscribe

"The most welcomed, most enduring piece of daily mass e-mail in cyberspace."