Home
Feb 16, 2017
This week's theme
American eponyms
This week's words
bork
John Hancock
Benedict Arnold
McCarthyism
gerrymander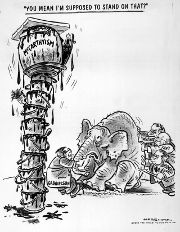 Cartoon: Herbert Block
---






A.Word.A.Day

with Anu Garg


McCarthyism
PRONUNCIATION:
(muh-KAHR-thee-iz-uhm)




MEANING:

noun: The practice of making unfounded accusations against someone.




ETYMOLOGY:

After US senator Joseph McCarthy (1909-1957) known for making unsubstantiated claims accusing people of being Communists, spies, or disloyal. Earliest documented use: in 1950 in a cartoon by Herbert Block.




USAGE:

"There is a general intolerance of those in positions of power of views contrary to their own. Pakistan today needs, more than ever, to guard against McCarthyism."

Pakistan Needs to Guard Against McCarthyism;

The Statesman

(Peshawar, Pakistan); Dec 11, 2016.

See more usage examples of

McCarthyism

in Vocabulary.com's

dictionary

.




A THOUGHT FOR TODAY:

Those who profess to favor freedom and yet deprecate agitation, are men who want crops without plowing the ground. -Frederick Douglass, abolitionist, editor, and orator (1817-1895)


A.Word.A.Day by email:

Subscribe

"The most welcomed, most enduring piece of daily mass e-mail in cyberspace."