Home
Jul 22, 1999
This week's theme
Eponyms
This week's words
orwellian
berserk
macadam
mansard
stakhanovite
euhemerism
argonaut
---
A Word A Day
the book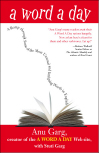 "Delightful."
-The New York Times
Buy
---

Discuss

Feedback

RSS/XML
---






A.Word.A.Day

with Anu Garg


mansard


mansard (MAN-sard) noun
1. A roof having two slopes on all four sides, with the lower slope almost vertical and the upper almost horizontal.
2. The upper story formed by the lower slope of a mansard roof.
[French mansardeafter Francois Mansart (1598-1666), French architect.]
"They have mansard roofs and mullioned windows, satellite dishes, tennis courts, seven-car garages, and swimming pools and decks adorned with Victorian gas lamps."
Kratochvil, Antonin, Border war.(US-Mexican border), Esquire, 1 Oct 1996.
A THOUGHT FOR TODAY
The more I study physics, the more I am drawn to metaphysics. -Albert Einstein
We need your help

Help us continue to spread the magic of words to readers everywhere

Donate