Home
Dec 14, 2016
This week's theme
Usage examples from well-known authors
This week's words
behoof
comminute
maffick
inhere
spavined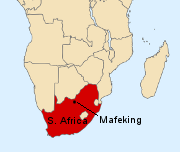 Mahikeng, South Africa
Map: Wikimedia
---






A.Word.A.Day

with Anu Garg


maffick
PRONUNCIATION:
(MAF-ik)




MEANING:

verb intr.: To celebrate boisterously.




ETYMOLOGY:

Back formation from Mafeking (now Mahikeng), a town in South Africa, where a British garrison was besieged for 217 days during the Boer War. Lifting of the siege on May 17, 1900, sparked wild celebrations in London. Earliest documented use: 1900.




USAGE:

"Mother, may I go and maffick,
Tear around and hinder traffic?"
Saki aka HH Munro (1870-1916).




A THOUGHT FOR TODAY:

Style is time's fool. Form is time's student. -Stewart Brand, writer and editor (b. 14 Dec 1938)


A.Word.A.Day by email:

Subscribe

"The most welcomed, most enduring piece of daily mass e-mail in cyberspace."