Home
Feb 8, 2016
This week's theme
Eponyms (words coined after people)
This week's words
maecenas
guy
victorian
gongorism
gongorism
Addisonian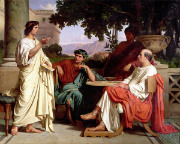 The poets Horace, Virgil, and Varius at the house of Maecenas
Art: Charles Francois Jalabert (1819-1901)
---






A.Word.A.Day

with Anu Garg

Last month we looked at five words coined after figures from mythology. Now it's time for people from the real world. This week we'll travel to Rome, Spain, and England and meet five people who have words coined after them.

Here's a thought experiment. Imagine that a word is coined after you and added to the English language. What would the word mean? What would you want the word to actually mean? Share your responses in comments below. You can also email us at words@wordsmith.org .
Maecenas
PRONUNCIATION:
(mee-SEE-nuhs, mi-)




MEANING:

noun: A generous patron, especially of art, music, or literature.




ETYMOLOGY:

From Gaius Cilnius Maecenas (c. 70-8 BCE), patron of Horace and Virgil. Earliest documented use: 1542.




USAGE:

"A local businessman and cycling fan from his Jura region, Daniel Germond, took on the role of Maecenas and disinterestedly paid his wages for a season, enabling the Frenchman to remain a professional cyclist."
Alasdair Fotheringham; Froome Goes on the Attack to Faze Rivals; The Independent on Sunday (London, UK); Jul 12, 2015.




A THOUGHT FOR TODAY:

Sunshine is delicious, rain is refreshing, wind braces us up, snow is exhilarating; there is really no such thing as bad weather, only different kinds of good weather. -John Ruskin, author, art critic, and social reformer (8 Feb 1819-1900)


A.Word.A.Day by email:

Subscribe

"The most welcomed, most enduring piece of daily mass e-mail in cyberspace."