Home
Mar 9, 2016
This week's theme
Unfamiliar cousins of everyday words
This week's words
chicane
derogate
ludic
altercate
complot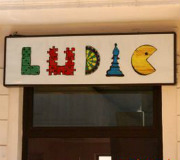 Ludic boardgames + bar, Romania
---






A.Word.A.Day

with Anu Garg


ludic
PRONUNCIATION:
(LOO-dik)




MEANING:

adjective: Relating to play; playful.




ETYMOLOGY:

From French ludique, from Latin ludere (to play), from ludus (play). Ultimately from Indo-European root leid- (to play), which is also the ancestor of allude, collude, delude, elude, illusion, ludicrous, and Ludo. Earliest documented use: 1940.




USAGE:

"A couple of comments bore particular appeal, to my academic as well as ludic sense."

Alfred A. Yuson; Double Whammy;

The Philippine Star

(Manila); Apr 18, 2011.

See more usage examples of

ludic

in Vocabulary.com's

dictionary

.




A THOUGHT FOR TODAY:

What I want to happen to religion in the future is this: I want it to be like bowling. It's a hobby, something some people will enjoy, that has some virtues to it, that will have its own institutions and its traditions and its own television programming, and that families will enjoy together. It's not something I want to ban or that should affect hiring and firing decisions, or that interferes with public policy. It will be perfectly harmless as long as we don't elect our politicians on the basis of their bowling score, or go to war with people who play nine-pin instead of ten-pin, or use folklore about backspin to make decrees about how biology works. -PZ Myers, biology professor (b. 9 Mar 1957)


A.Word.A.Day by email:

Subscribe

"The most welcomed, most enduring piece of daily mass e-mail in cyberspace."