Home
Aug 24, 2015
This week's theme
Eponyms
This week's words
lorelei
Paul Pry
boycott
chauvinism
lovelace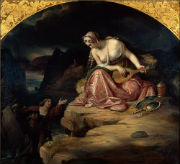 Art: Carl Joseph Begas (1794-1854)
---






A.Word.A.Day

with Anu Garg

If you have ever called someone brainy an Einstein, or someone clever and perceptive a Sherlock (sometimes sarcastically), you have made use of an eponym.

An eponym is a word coined after a person, from Greek epi- (upon) + -onym (name). The English language has thousands of them, for men and women, from fact and fiction, obscure and well-known, home-grown and borrowed from other languages.

This week we'll feature five assorted eponyms.
Lorelei
PRONUNCIATION:
(LOR-uh-ly)




MEANING:

noun: A dangerously seductive woman.




ETYMOLOGY:

In German legend Lorelei was a nymph who sat on a rock of the same name on the Rhine river. Her songs lured sailors to their destruction on the rock. Earliest documented use: 1878. Also see

siren

,

Mata Hari

, and

Circe

.




USAGE:

"In fact, Peter the Publican's daughter is his Lorelei, enticing customers into his establishment, then flirting brazenly just to keep them drinking."

Michael Dirda; These Dead Men Don't Just Tell Tales, They Quarrel. A Lot;

The Washington Post

; Apr 9, 2015.

See more usage examples of

Lorelei

in Vocabulary.com's

dictionary

.




A THOUGHT FOR TODAY:

To fall in love is to create a religion that has a fallible god. -Jorge Luis Borges, writer (24 Aug 1899-1986)


We need your help

Help us continue to spread the magic of words to readers everywhere

Donate