Home
Jul 21, 2015
This week's theme
Words related to Pluto and its moons
This week's words
plutonian
hydra
cerberus
nocturnal
stygian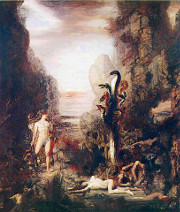 Hercules and the Lernaean Hydra
Art: Gustave Moreau
---






A.Word.A.Day

with Anu Garg


hydra
PRONUNCIATION:
(HY-druh)




MEANING:

noun: A persistent or multifaceted problem that presents a new obstacle when a part of it is solved.




ETYMOLOGY:

After the many-headed monster Hydra in Greek mythology. When its one head was cut off, it sprouted two more. It was ultimately slain by Hercules. From Latin Hydra, from Greek Hudra (water snake). Ultimately from the Indo-European root wed- (water, wet), which also gave us water, wash, winter, hydrant, redundant, otter, and vodka. Earliest documented use: 1374.




USAGE:

"Roosevelt's ships and men were drowning in the Pacific, fighting a hydra that formed and reformed in successive island jungles."

Francine Mathews;

Too Bad to Die

; Riverhead Books; 2015.

"The FSA ceases to exist today. It is a hydra, however. Two will spring up in its place."

Dominic O'Connell; Perverse Pru Fine Sends FSA Out on Low Note;

Sunday Times

(London, UK); Mar 31, 2013.

See more usage examples of

hydra

in Vocabulary.com's

dictionary

.




A THOUGHT FOR TODAY:

Never think that war, no matter how necessary, nor how justified, is not a crime. Ask the infantry and ask the dead. -Ernest Hemingway, author and journalist, Nobel laureate (21 Jul 1899-1961)


A.Word.A.Day by email:

Subscribe

"The most welcomed, most enduring piece of daily mass e-mail in cyberspace."