Home
Jan 22, 2015
This week's theme
Insults
This week's words
ultracrepidarian
mythomane
libertine
homunculus
vacuous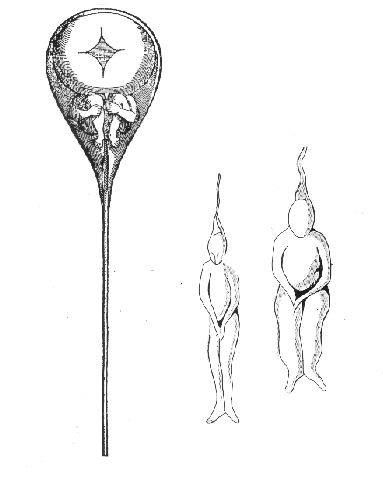 A tiny human inside a sperm
Drawing: N. Hartsoecker, 1695
Source: Wikimedia
---






A.Word.A.Day

with Anu Garg


homunculus
PRONUNCIATION:
(huh-MUHNG-kyuh-luhs, HO-)




MEANING:

noun:
1. A diminutive human being.
2. A fully formed, miniature human being that was earlier believed to be present in a sperm or an egg.




ETYMOLOGY:




USAGE:

"'I'm a well-educated, contributing member of society!' this shameless homunculus yelled."

Rachel Chang; Feeling Second-Class First Hand;

Straits Times

(Singapore); Jun 30, 2013.

"Self-aggrandizing homunculus Bono says love of money is the root of Mick Jagger."

Liz Braun; Bono's views on Jagger;

Sault Star

(Canada); Jul 27, 2013.

See more usage examples of

homunculus

in Vocabulary.com's

dictionary

.




A THOUGHT FOR TODAY:

Those who will not reason, are bigots, those who cannot, are fools, and those who dare not, are slaves. -Lord Byron, poet (22 Jan 1788-1824)


A.Word.A.Day by email:

Subscribe

"The most welcomed, most enduring piece of daily mass e-mail in cyberspace."