Home
Aug 7, 2015
This week's theme
Unusual verbs for everyday actions
This week's words
micturate
osculate
regurgitate
masticate
exungulate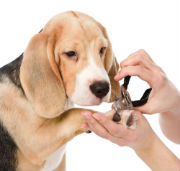 Photo: Ermolaev Alexander (Shutterstock)
This week's comments
AWADmail 684
Next week's theme
Words related to space
---






A.Word.A.Day

with Anu Garg


exungulate
PRONUNCIATION:
(ek-SUNG-uh-layt)




MEANING:

verb tr.: To pare nails, claws, etc.




ETYMOLOGY:

From Latin exungulare (to lose the hoof), from ex- (out) + ungula (claw, nail, hoof, talon, etc.). Earliest documented use: 1623.




USAGE:

"Pets mimic their owners; Fred [the dog] is very protective. A few days after me and Jordana had done the dirty for the first time, he swiped me across the ear. I would like to exungulate Fred."
Joe Dunthorne; Submarine: A Novel; Random House; 2008.




A THOUGHT FOR TODAY:

It's a shallow life that doesn't give a person a few scars. -Garrison Keillor, radio host and author (b. 7 Aug 1942)


A.Word.A.Day by email:

Subscribe

"The most welcomed, most enduring piece of daily mass e-mail in cyberspace."