Home
May 21, 2015
This week's theme
Verbs
This week's words
devolve
edify
parlay
espouse
acerbate
---
A Word A Day
the book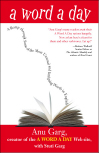 "Delightful."
-The New York Times
Buy
---






A.Word.A.Day

with Anu Garg


espouse
PRONUNCIATION:
(i-SPOUZ)




MEANING:

verb tr.:
1. To adopt or support a cause, idea, belief, etc.
2. To take as spouse: marry.




ETYMOLOGY:

From Old French espouser, from Latin sponsare (to betroth), from sponsus (betrothed). Ultimately from the Indo-European root spend- (to make an offering or perform a rite), which is also the source of sponsor, spouse, respond, and

riposte

. Earliest documented use: 1477.




USAGE:

"Chevy Eugene's research focuses on the arts as a key tool for Caribbean integration -- an idea he not only espouses, but actively pursues."

Time for a New Kind of Black Activism;

Toronto Star

(Canada); Apr 19, 2015.

See more usage examples of

espouse

in Vocabulary.com's

dictionary

.




A THOUGHT FOR TODAY:

In words as fashions the same rule will hold, / Alike fantastic if too new or old; / Be not the first by whom the new are tried, / Nor yet the last to lay the old aside. -Alexander Pope, poet (21 May 1688-1744)


A.Word.A.Day by email:

Subscribe

"The most welcomed, most enduring piece of daily mass e-mail in cyberspace."