Home
Dec 23, 2014
This week's theme
Words from science that have different senses in everyday use
This week's words
optics
epicenter
quantum
theory
entropy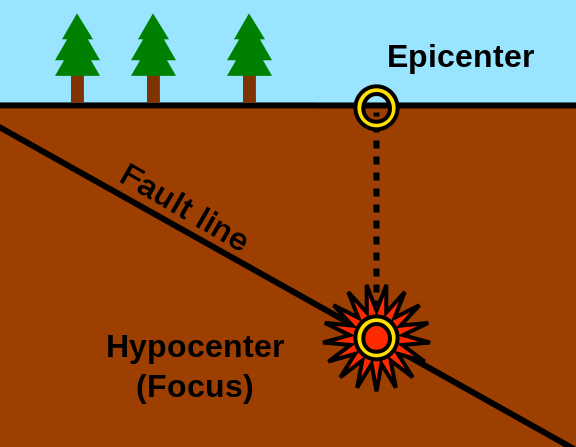 Graphic: Wikimedia
---






A.Word.A.Day

with Anu Garg


epicenter
PRONUNCIATION:
(EP-i-sen-tuhr)




MEANING:

noun:
1. The point on the earth's surface directly above the focus of an earthquake.
2. The center or focal point of an activity or event, especially something unpleasant.




ETYMOLOGY:

From Latin epicentrum, from Greek epikentros, from epi- (upon) + kentron (needle, pivot point for drawing a circle). Earliest documented use: 1887.




USAGE:

"Itu, a commuter city outside Sao Paulo, is at the epicenter of the worst drought to hit southeastern Brazil in more than eight decades."

Biggest Brazil City Desperate for Water in Drought; Associated Press (New York); Nov 6, 2014.

See more usage examples of

epicenter

in Vocabulary.com's

dictionary

.




A THOUGHT FOR TODAY:

Every noon as the clock hands arrive at twelve, / I want to tie the two arms together, / And walk out of the bank carrying time in bags. -Robert Bly, poet (b. 1926)


A.Word.A.Day by email:

Subscribe

"The most welcomed, most enduring piece of daily mass e-mail in cyberspace."