Home
Oct 9, 2015
This week's theme
Bird words
This week's words
gannet
snipe
dodo
magpie
dotterel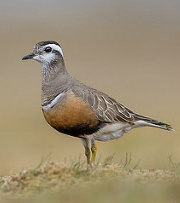 This week's comments
AWADmail 693
Next week's theme
Words with hooks
---






A.Word.A.Day

with Anu Garg


dotterel
PRONUNCIATION:
(DOT-uhr-uhl)




MEANING:

noun:
1. Any of various plovers breeding in mountainous areas.
2. Someone who is easily duped.




ETYMOLOGY:

From dote (to be weak-minded from old age), from Middle English doten (to be foolish) + -rel (diminutive or pejorative suffix), as in

doggerel

and

wastrel

. The metaphorical sense of the word derives from the apparently unsuspecting nature of the bird. Earliest documented use: 1440.




USAGE:

"A willowy young creature walked down the stairs from the rooms above, holding on to the arm of some old dotterel who had no doubt been duped into imagined vigour."

David Ashton;

Inspector McLevy Mysteries: Omnibus

; Polygon; 2015.

See more usage examples of

dotterel

in Vocabulary.com's

dictionary

.




A THOUGHT FOR TODAY:

Imagine there's no countries, / It isn't hard to do. / Nothing to kill or die for, / And no religion, too. / Imagine all the people / Living life in peace. -John Lennon, musician (9 Oct 1940-1980)


A.Word.A.Day by email:

Subscribe

"The most welcomed, most enduring piece of daily mass e-mail in cyberspace."