Home
Aug 14, 2015
This week's theme
Words related to space
This week's words
saturnalia
meteoric
venery
tellurian
constellate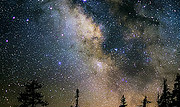 This week's comments
AWADmail 685
Next week's theme
Adverbs
---






A.Word.A.Day

with Anu Garg


constellate
PRONUNCIATION:
(KON-stuh-layt)




MEANING:

verb tr., intr.: To gather or form a cluster.




ETYMOLOGY:

From Latin con- (together) + stella (star). Ultimately from the Indo-European root ster- (star), which also gave us star, asterisk, asteroid, astrology, disaster, stellar, constellation, Persian sitareh (star), the names Stella and Esther, and

astraphobia

(an abnormal fear of lightning and thunder). Earliest documented use: 1611.




USAGE:

"These [men] are constellated round a centrally placed, red-sheeted double bed that acts as a kind of stage-within-a-stage."

Paul Taylor; Tis Pity ...;

The Independent

(London, UK); Feb 24, 2012.

See more usage examples of

constellate

in Vocabulary.com's

dictionary

.




A THOUGHT FOR TODAY:

By the age of six the average child will have completed the basic American education. ... From television, the child will have learned how to pick a lock, commit a fairly elaborate bank holdup, prevent wetness all day long, get the laundry twice as white, and kill people with a variety of sophisticated armaments. -Russell Baker, columnist and author (b. 14 Aug 1925)


A.Word.A.Day by email:

Subscribe

"The most welcomed, most enduring piece of daily mass e-mail in cyberspace."