Home
Jan 22, 2016
This week's theme
Clothing terms used metaphorically
This week's words
brass hat
sackcloth
straitlaced
sansculotte
bootleg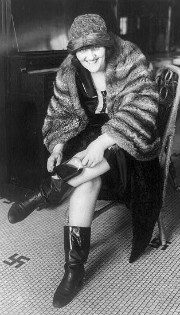 Woman putting flask in her Russian boot, Washington, DC, 1921
(Note: This is 1921. The swastika pattern in the floor is nothing unusual -- the symbol hasn't yet been stigmatized by its association with Hitler. See
here
.)
This week's comments
AWADmail 708
Next week's theme
Words from mythology
---






A.Word.A.Day

with Anu Garg


bootleg
PRONUNCIATION:
(BOOT-leg)




MEANING:

verb tr., intr.: To make, sell, or transport something illegally.
noun: Something illegally made, sold, or distributed.
adjective: Made, sold, or distributed illegally.




ETYMOLOGY:

From the practice of concealing a liquor flask in the leg of a boot. Earliest documented use: 1889.




USAGE:

"I swear, every single movie he had was bootleg. I think his whole room was bootleg."

Michelle Stimpson;

Trouble in My Way

; Pocket Books; 2008.

See more usage examples of

bootleg

in Vocabulary.com's

dictionary

.




A THOUGHT FOR TODAY:

He who is only just is cruel. Who on earth could live were all judged justly? -Lord Byron, poet (22 Jan 1788-1824)


A.Word.A.Day by email:

Subscribe

"The most welcomed, most enduring piece of daily mass e-mail in cyberspace."